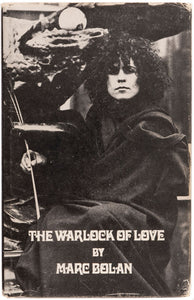 Glam Rock Poetry from a photographer's library
BOLAN, Marc. The Warlock of Love. Lupus Music, 1969.
8vo. Original decorative paper-covered boards, with dustwrapper; pp. 63; slightly rubbed to extremities, internally very clean and bright, very good. Provenance: ffep inscribed by Marc Bolan "Deepest love/ Marc Bolan/ x", with ownership signature of Jeannette Montgomery (b. 1956) the revered photographer of the New York downtown art scene, known since her marriage as Jeannette Montgomery Barron. When asked by the Fashion Style blog who she was 'totally into' as a teenager, Mongomery Barron replied : 'T. Rex' (http://ranchodascoelhinhasportugal.blogspot.com/2014/02/q-jeannette-montgomery-barron.html).
First edition. Scarce signed.
Heavily inspired by Tolkien, this book of poetry was issued before Bolan hit international superstardom with T. Rex. Nevertheless, he was a big enough domestic star to sell 40,000 copies of this book, which was quickly reprinted and became Britain's biggest selling volume of poetry of the year. There is a nod to his band in the very last lines of the last poem in the book : "And now where once stood solid water/ stood the reptile king,/ Tyrannosaurus Rex, reborn and bopping". This may be the first time a dinosaur has ever been described in such rock'n'roll terms.
#2102373