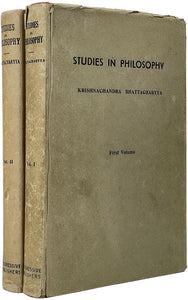 BHATTACHARYYA, Krishnachandra. Studies in Philosopy … Edited by Gopinath Bhattacharyya. Culcatta, Progressive Publishers, [1956-58].
Two volumes, 8vo. Original cloth with dust-wrappers (not price-clipped); xiv, [2], 366; xxxi, 360, portrait-frontispiece; light darkening and marginal fraying to wrappers, volume one with ms. notes on rear fly-leaf, otherwise fine.
Very rare first edition, first impression, volume two with the cloth binding upside doown around the book block. This the first edition of the complete work of one of the leading Indian philosophers of the first half of the 20th century. 'Krishna Chandra Bhattacharyya is an early comparative philosopher of the Indian colonial period. To overcome cultural subjection, he developed creative Vedāntic approaches to Kant and Hegel, and vice versa. Contributing to the fields of metaphysics, epistemology, ethics, aesthetics and politics, he elaborated an intercultural framework through which to address the problems of knowledge of the self, subjectivity and freedom, and the alternation of Absolutes in philosophy, answering Kant's Critiques with Neo-Vedāntic analyses' (The Encyclopedia of Philosophy of Religion, edited by Stewart Goetz and Charles Taliaferro).
COPAC locates copies in the BL, at Oxford, Kung's College and at Durham University only.
#2117586