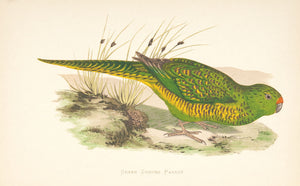 Benjamin Fawcett (1808–1893). Green Ground Parrot. 250 x 170 mm.
Chromoxylograph (colour wood engraving), by Benjamin Fawcett after drawings by A. F. Lydon from W. T. Greene's Parrots in Captivity, published in London, 1884.
Benjamin Fawcett was one of the finest of the nineteenth century woodblock colour printers. This item is in excellent condition and exemplifies the colour printing technique's ability to impart smooth and consistent areas of pigment, particularly suited to the bright colours naturally occurring in tropical birds, such as parrots.
#2060619