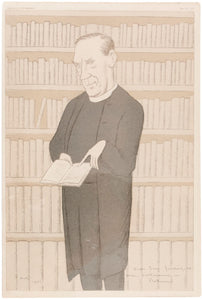 BEERBOHM, Max. Dean Inge, finding as ever, sustinance in plotinus.
Original lithograph, for the Spectator Supllement, published by Vincent Brooks, Day & Son, Ltd, March 14th, 1931. 320 x 210 mm.
William Ralph Inge KCVO FBA (6th June 1860 – 26th February 1954) was an English author, Anglican priest, professor of divinity at Cambridge, and Dean of St Paul's Cathedral, which provided the appellation by which he was widely known, Dean Inge. He was nominated for the Nobel Prize in Literature three times.
#2107586