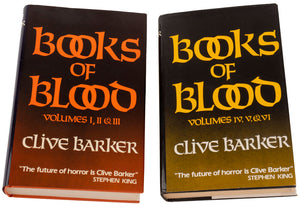 Everybody is a book of blood; wherever we're opened, we're red.
BARKER, Clive. Books of Blood London: Weidenfeld & Nicolson, 1987.
2 vols. 8vo. Original black cloth with dust wrappers; pp. [x], 182, [ii]; [viii], 152; a very good set with some faint toning to the paper stock of volume 2.
The first UK trade edition of The Books of Blood, published in 1987 and 1988 respectively. Amongst Barker's canon, Books of Blood has a complex publishing history on both sides of the Atlantic, and a matching set of both volumes can be oddly hard to track down. The books of blood are an anthology of horror stories which would launch Barker's career sidestep from playwright to novelist, and were responsible for a dramatic increase in popular awareness of his work.
#2111614