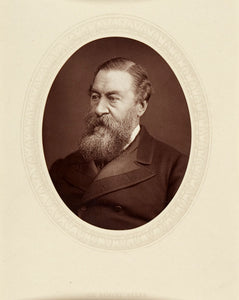 BAKER, Sir Samuel White -- LOCK AND WHITFIELD (photographers). 'Sir Samuel Baker', mounted woodburytype photographic portrait.
274 x 204mm, with the letterpress biography, from: Men of Mark ... Photographed from Life by Lock and Whitfield, with Brief Biographical Notices by Thompson Cooper ... Fourth Series. London: Sampson, Low, Marston, Searle, and Rivington, 1880, no. 8; modern mount.
A portrait of the African explorer Sir Samuel White Baker (1821-1893), perhaps best known for his travels in Abyssinia and the Sudan, and his discovery of the Albert Nyanza, which won him the Gold Medal of the Royal Geographical Society in 1865 and a knighthood in 1866; his reputation was consolidated and furthered by his publications, which include The Albert Ny'anza, Great Basin of the Nile, and Explorations of the Nile Sources (London: 1866), which 'went through several editions [and], remains one of the most important narratives of African exploration during the Victorian era' (ODNB).
#337994