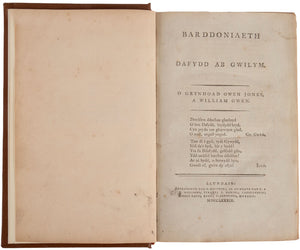 AP GWILYM, Dafydd Works London: printed by H Baldwin, 1789.
8vo. Late rebind into full brown cloth, title gilt to spine; pp. xliii, [1], 548; a neat and sound copy in a very tidy rebind, some minor toning and foxing to the pages, type clear throughout.
A collection of poems by the famous Welsh bard Dafydd Ap Gwylim (c. 1315/1320 – c. 1350/1370), commonly regarded as one of the great Welsh Poets, and amongst the most influential Middle Age poets in general. Modern scholarship attributes to him around 170 poems, though many more have been branded with his name over the centuries - this volume contains over two hundred. Dafydd wrote mainly on the themes of love and nature, and he was immensely popular in his time (accounting for the survival of so much of his work). Some of his best known works include Merched Llanbadarn (The girls of Llanbadarn), in which he ogles the women he sees in church, and Y Rhugl Groen (The rattle bag), in which he is rudely interrupted mid-coitus. Interestingly, the introduction to this text (a biography), and the appendices are both in English, but the poems themselves are recorded in Welsh.
#2112996