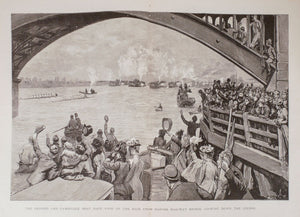 ANON. The Oxford and Cambridge Boat race - View of the race from Barnes railway bridge, looking down the course.
Original wood engraving, published in The Graphic, March 28th, 1891. 400 x 580 mm.
The 48th Boat Race took place on 21st March 1891. Oxford went into the race leading 24–22 in the event overall. In total, eight rowers who were participating had previous Boat Race experience. Umpired by former Oxford rower Frank Willan, pre-race favourites Oxford won by half-a-length in a time of 21 minutes 48 seconds. It was Oxford's narrowest winning margin since the 1867 race.
#2107270