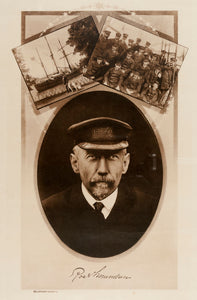 norwegians in the states
AMUNDSEN, Roald. Large photogravure portrait in sepia. Chicago, Skandinaven, [c. 1910].
Printed on stiff, thick paper, measuring 56 x 36 cm; a well-preserved rarity.
Most likely printed in 1910 as all the photos were taken in early June 1910 by Norwegian photographer Aners Beer Wilse some days before Amundsen and Fram's departure from Kristiania. The picture of Fram is taken at Amundsen's home Uranienborg at Svartskog. The Norwegian periodical Skandinaven offered their readers this commemorative print. 'Norwegian readers ... were served by John Anderson`s daily, Skandinaven, which he founded in 1866 and continued publication until 1941. In its heyday Skandinaven had a larger circulation than any daily paper in Norway, a testimony to a vigorous Norse colony in Chicago at that time' (Chicago Tribune, November 22, 1990, online).
#2095388