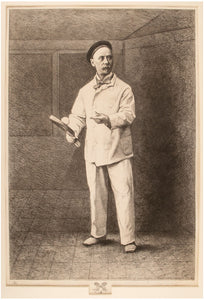 AM. Charles Delahaye holding a Real Tennis Racket.
Original etching printed c.1870. 485 x 340 mm.
Charles Delahaye, known as "Biboche", was born on 24th July, 1825. His father, Henri Delahaye, kept a court in Amiens, and previously had a court in Geneva. Taught by his father, Biboche's game soon improved, and by the age of 15 he became attached to the court in the Passage Sandrié. Here he played with Barre and the amateur, M. Mosneron, and soon was second in prowess only to Barre himself. In 1848 he defeated Peter Tompkins at Hampton Court and in 1851 twice defeated his son, Edmund, at Oxford and James Street.
Biboche eventually became maître paumier of the Passage Sandrié, and on its demolition in 1861 took over the Tuileries Gardens court, retiring thirty-four years later in 1896. Like other great professionals, "he was fond of bizarre handicaps and once played a match wearing the full dress uniform of the National Guard, even carrying a musket with fixed bayonet in his left hand" (Lord Aberdare, Tennis and Rackets, 1980, p. 81). He died aged 81 in 1906. Henderson p. 191.
Trimmed within platemark, repaired tear to upper edge in margin.
Very rare.
#2114251