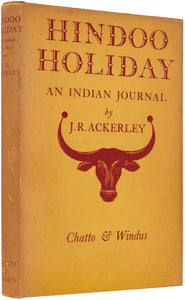 ACKERLEY, Joe Randolph. Hindoo Holiday. An Indian Journal … New Edition. London, Chatto & Windus, 1952.
8vo. Original boards with wrapper designed by Brien, price-clipped; pp. [xii], 276; wrapper a little darkened on spine, otherwise fine.
First published in 1932, 'Hindoo Holiday combined pefectly the charm of the first-rate travel travel book, and the excitement of candid autobiography. In Mr Ackerley's hands the story of a six month's sojourn at the Court of the Maharajah of "Chokrapur" becomes a gay satire on autocracy, a living picture of a small corner of India, and, at the same time, a vivacious tribute to the character of it's eccentric ruler' (rear panel of dust-wrapper of the first edition). This edition contains the passages omitted for their libellous nature in the 1932 edition.
One of the closest friends of E. M. Forster was Ackerly. 'Hindoo Holiday [is] based on his Indian diaries. In spite of many excisions on the grounds of libel and obscenity, the book's sly humour and brilliant character-drawing ensured excellent sales and consolidated his reputation' (ODNB).
#2111202