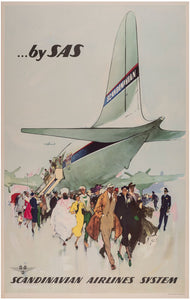 NIELSEN, Otto (1916-2000). by SAS.
Original lithograph with colour, linen backed, printed by the Aller Press Ltd, Denmark, published by SAS Scandinavian Airlines System, 1946. 1000 x 620 mm.
The poster depicts passengers in fashionable clothing leaving the Douglas DC-4 Skymaster and aircraft passing the tail. Douglas DC-4 Skymaster was used on the routes to New York and Rio de Janeiro.
#2118577