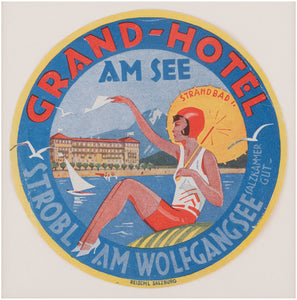 ANON. Grand Hotel Strobl Am Wolfgangsee.
Original Hotel luggage label, c.1927. 115 x 115 mm.
Strobl by Lake Wolfgangsee is located near Salzburg. It has been a spa town since the Nineteenth Century. It soon became a popular resort town and the Hotel prospered. It is today awaiting redevelopment.
Printers: Reischl Salzburg.
Rare.
#2118543