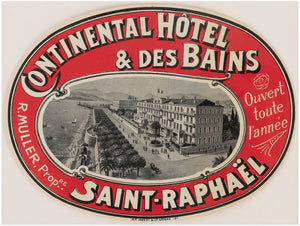 ANON. Continental Hotel & des Bains, Saint-Raphael.
Original Hotel luggage label, c.1912. 105 x 145 mm.
The Hotel opened in the early 1900's as demand was growing on the Cote D'Azur for luxury accomodation during the Winter season.
The Hotel located opposite the beach soon attracted the wealthy elite. It became famous for its fine cuisne which was offered in its two large dining rooms arranged in a rotunda. The Hotel was demolished in the 1970's and a new building was erected still called the Continental. The Hotel however now only occupies the first floor in this prestigious building.
Printers: Imp. Imbert and Cie. Grasse.
Very rare.
#2118493