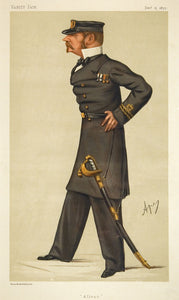 YOUNG, Sir Allen William -- 'APE' [i.e. Carlo PELLEGRINI] (artist). '"Alleno"'. [London:] Vincent Brookes, Day and Son for Vanity Fair, 15 December 1877.
A full-length lithographic portrait of Young after Pellegrini, from the 'Men of the Day' series (no. 167), image size 310 x 184mm; very good, mounted, with a photocopy of the original text to the verso.
A portrait of the Arctic explorer Sir Allen Young, shortly after he was knighted for his services to Arctic exploration. Allen served as the navigating officer of the Fox under Sir Leopold M'Clintock in 1857, during its expedition to follow through John Rae's discoveries relating to Franklin's fate: 'During the two years spent in following Franklin's tracks, Young made notable sledge journeys, exploring about 380 miles of new coast line, including the southern and western coasts of Prince of Wales Land and both shores of Franklin Strait. He also discovered McClintock Channel, but was unable to cross its rough ice. In 1860 he had command of the Fox in the north Atlantic telegraph expedition, which surveyed a telegraph route between Europe and America via the Faeroes, Iceland, and Greenland. He visited the east coast of Greenland, but, believing it to be impracticable for a cable route, did not land. He sailed on for the west coast, landed with Rae (who was in charge of the land part of the expedition), and ascended to the ice cap near Julianehåb; but he returned on deciding that a telegraph line could not be carried across Greenland' (ODNB). Young later travelled to Baffin Bay in support of Sir George Nares' 1875-1876 Arctic expedition and returned the following year, when 'in spite of great difficulties [he] landed dispatches for Nares at Cape Isabella and Littleton Island' (op. cit.); for his services to Nares' expedition, Young was knighted in 1877, shortly before this portrait was executed. Young's last Arctic expedition was in June 1882, when 'he commanded the whaler Hope, chartered with government help, in order to search for the explorer, Benjamin Leigh Smith, who had sailed for Franz Josef Land in July of the previous year. Nares and Young were instrumental in launching the relief expedition and in August 1882 the Hope found Leigh Smith and his party at Matochkin Shar, on the west coast of Novaya Zemlya, which they had reached in boats after the destruction of their vessel off Franz Josef Land' (op. cit.).
#315814