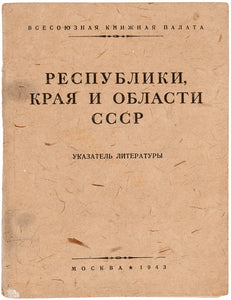 ARTIUKHOV, IA. S., and N. P. NIKITIN. Respubliki, kraia i oblasti SSSR. Ukazatel literatury. Moscow, [printers of "Pravda"], 1943.
Small 8vo. Original printed wrappers; pp. 92, [4], evenly browned due to paper stock, slight discolouration from wire-stitching; otherwise a good copy.
First edition of a great rarity, one of only 1000 copies printed in June 1943, just before the all-decisive Battle of Kursk, and when the German occupuied territory was at its largest extent. This book is a bibliogrphy of publications on all regional divisions (republic, krai and oblast), published for only a small inner circle of Soviet and Red Army officials. Not many copies found their destinations and survived the war.
#2096952