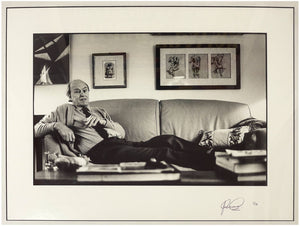 Limited to just 5 copies.
FARRIER, John; [DAHL, Roald] Signed Photograph [2003].
Framed black and white photograph (frame 76 x 55cm, photo 40 x 27cm), showing the author Roald Dahl reclining on a sofa, smoking a cigerette; with the photographer's signature and limitation stamp to lower RH corner; professionally mounted, framed and glazed; the frame a little scratched and knocked in places.
Limited to just 5 numbered copies signed by the photographer. This copy no. 1.
John Stewart Farrier was an English Documentary Photographer known for his iconic political photographs and personality portraits, all in glorious black and white. Among numerous illustrious faces he captured on film over the years were Margaret Thatcher, Sir Cliff Richard and John Lennon. Farrier wrote of his meeting with the infamous author: "Roald greeting me saying 'I don't like people with beards, they have something to hide" and, later, "thank god we are not talking about my books and I certainly don't want to be photographed in my garden hut. Everyone does that'...I said it suited me fine and told him to just lounge around on the sofa. He said he was going to have a cigarette while we chatted. I asked him 'have you always been such a grumpy old man?' as I hid behind my Nikon camera waiting for an immediate reply asking me to leave... but it never happened. We both began to laugh and thereafter it was just magic – the ice had broken."
The images were sold at a gallery in Canterbury in a limited edition print run of 5 in 2003, instantly selling out.
#2117568