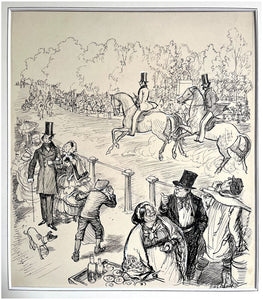 SHEPARD, E.H. (illustrator). "The Popular Voice" - original pen and ink illustration. [1943].
An original pen-and-ink drawing, signed E.H. Shepard, in ink, to lower right, on Whatman board with some artist's highlighting, image size 36 x 26.8cm, mounted size 38 x 33cm, neatly presented in an ivory-coloured mount, with grey hand-ruled border, depicting a lively Victorian scene concentrated on a pair of frock-coated and top-hatted horsemen cantering with gusto along a bridle path in what appears to be a leafy London park, with a busy and energetic foreground cluster of local street characters, including a trader selling oysters, and a background of other horsemen and park strollers, with title to lower margin "The Popular Voice" in pencil, in Shepard's hand, and "p. 224, Happy and Glorious, Laurence Housman" in an unknown hand, with additional notes all in Shepard's hand, in ink, to the verso including "E.H. Shepard, Long Meadow, Longdown, Guildford", this neatly crossed through and supplemented with "Woodmancote, Lodsworth, Sussex" and "Happy & Glorious, The Popular Voice".
A large, and characteristically engaging, signed original ink drawing by this renowned illustrator which was printed on page 224 of Happy and Glorious (The Reprint Society, 1943), which is a wonderful collection of 47 very short illustrated plays by Laurence Housman.
Sold together with an attractive copy of the first Jonathan Cape edition of the published book, in dustwrapper designed by E.H. Shepard.
#2114738